2016 Macon tornado
EF6 tornado


the tornado at peak intensity just after hitting West Oak, GA

---

Date
September 9, 2016
Times
1637-1752
Touchdown location
Near Thomaston, Georgia
Injuries
1,463
Fatalities
92
Damage
$1.9 trillion
Areas affected
Macon, Georgia and surrounding areas
Part of the
2016 tornado season
Confirmed
Total
Confirmed
EF0
Confirmed
EF1
Confirmed
EF2
Confirmed
EF3
Confirmed
EF4
Confirmed
EF5
Confirmed
EF6
138
38
42
36
11
7
3
1
Meteorological Synopsis
Hurricane Hermine had dissipated a few days prior and the Remnants of Hermine merged with a low pressure system in the Northeastern US on September 7 that had already produced 3 tornadoes and a derecho causing a EWS to form on September 8 in Mississippi out of the jet stream, the system became named Enhanced Weather System Alan (more widely known as EWS Alan) by the Storm Prediction Center on September 9 when a high risk of severe storms was issued, at 1630 a PDS tornado warning was issued for the town of Thomaston, Georgia concerning a very violent looking cell, the warning even said "A severe thunderstorm capable of producing a large and extremely dangerous tornado was located near Thomaston and moving east, a large tornado may touch down at anytime!! Take cover now!" at 1637 the tornado touched down as a EF3 wedge resulting in a immediate tornado emergency for Thomaston at 1638...at 1640 the tornado reached EF5 intensity, and devastated Thomaston, Georgia between 1642 and 1645...at 1700 the tornado approached West Oak and reached EF6 intensity with 302MPH winds, only 1MPH above the minimum requirements for a EF6 tornado (301MPH) the tornado rapidly intensified until 1705 when the tornado hit West Oak with 322MPH winds, the tornado reached it's peak of 340MPH winds at 1707...the tornado started weakening and strengthening between 335 and 340MPH winds between 1709 and 1711 before weakening to 330MPH winds, at 1715 the tornado neared Macon, Georgia and struck town at 1720 (1:20PM EDT/12:20PM EST) the tornado started weakening after 1720 and was only a EF3 between 1730 and 1750 before diminishing completely 2 minutes later. the tornado outbreak was also the worst in the Atlanta Metropolitan area spawning 3 EF5's in the metro and 4 EF4's.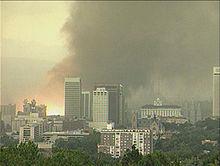 Ad blocker interference detected!
Wikia is a free-to-use site that makes money from advertising. We have a modified experience for viewers using ad blockers

Wikia is not accessible if you've made further modifications. Remove the custom ad blocker rule(s) and the page will load as expected.